FREQUENTLY ASKED QUESTIONS
What is MNxMN?
---
MNxMN is a grassroots community uniting advocacy groups with new and experienced activists across the state of Minnesota. It was established in an effort to channel the enthusiasm and outrage inspired by the 2016 election into effective action and help heal our divided political climate. We seek to maximize resources and develop advocates to strengthen our democracy, support representative government and address disparity for all Minnesotans, including economic status, race, color, religion, sexual orientation, age, disability or party affiliation. ​To learn more about our coalition & how we were formed, please visit the "About MNxMN" page.
---
Where is MNxMN 2018 happening?
---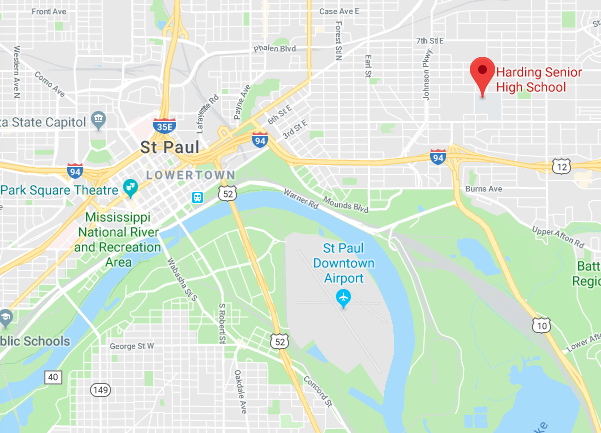 Harding High School in St Paul Minnesota 1540 6th St E, St Paul, MN 55106 Directions here: https://goo.gl/maps/KPx9367Y6H42
---
Where do I park?
---
For the main entrance and visitor parking, please enter Harding High School from Third Street (South side of the building).
---
What are the public transporation options?
---
Metro Transit offers 2 bus routes with stops near Harding High School. Visit Metro Transit's Trip Planner to plan your ride. Route 63 Stop ID: 3231 (Westbound), 3170 (Eastbound) 3rd Street E & Germain St. Route 74 Stop ID: 12898 (Westbound), 10399 (Eastbound) 7th Street E & Hazelton St. *Please note, this stop requires a 12 minute walk (.6 miles) to Harding High School
---
Will childcare be available?
---
Yes - Children under the age of 12 are welcome to attend MNxMN 2018: Beyond Resistance free of charge! There will be a staffed childcare room open from 8am – 5:30pm (except between 12:30-2pm when we ask you to pick up your child/ren to have lunch together), to which parents and caregivers are welcome to bring their children at any time during the conference. There will also be a unstaffed children's Activity Center in the Exhibit Hall. Parents and caregivers are encouraged to use this area of the Exhibit Hall to spend time with their children while not attending workshop sessions. If your children have specific needs, please let us know as soon as possible by emailing volunteer@mnxmn.org.
Guidelines for children attending
We ask parents and caregivers to bring lunch for your children or buy lunch for them from conference vendors. The snacks provided in the childcare room will not make a substantial lunch. If your children have dietary restrictions and allergies, please bring food they can eat.
MNxMN will provide some toys, games, and snacks, but invite attendeees with children to bring some of your children's favorites to share.
Kids are welcome to attend workshops with a responsible adult. Due to the small workshop size, we ask that those having trouble being quiet listeners go with their caregivers to the children's activity center in the Exhibit Hall or be taken to the childcare room.

PLEASE BRING A LUNCH FROM HOME for child/children. We ask that you pick up your child and have lunch together in the cafeteria from 12:30 - 2pm.
Sign up for Childcare here!
---
What about ridesharing?
---
We have people attending from all over the state and would love for you to join us! We've set up a new Facebook Event specifically to connect conference-goers and help facilitate ride sharing and/or couch-surfing options.
---
What does my ticket pay for?
---
MNxMN is brand-new volunteer-run organization. Our application for 501c3 nonprofit designation is pending.

MNxMN 2018: Beyond Resistance is a not-for-profit event. Admission fees and the generous contributions of our sponsors and exhibitors go directly to cover event expenses (i.e. venue rental, lunches and supplies). We budgeted to be able to provide scholarships for one-third of our attendees and discounts for students to ensure accessibility for all. In the spirit of transparency, we are happy to answer any further questions you may have about MNxMN's financial status. Please direct your questions to finance@mnxmn.org.
---
What if I cannot attend and have already registered?
---
MNxMN will be accommodating for family emergencies, but in the event of weather or other "acts of God" we are unable to provide refunds for registration.
---
---